The idea of the clown, with its garish makeup, colourful clothing, and bizarre physical mannerisms, can be traced to a single man: the Regency-era actor Joseph Grimaldi (1778–1837).
Grimaldi worked in the harlequinade, a pantomime tradition in Britain that had evolved from the earlier Italian commedia dell'arte. Harlequin stories centred around the eponymous character Harlequin, his love for the beautiful Columbine, and her father Pantaloon's efforts to separate the lovers, aided by the mischievous Clown.
Grimaldi completely reinvented the character of Clown, evolving him from a raggedly dressed servant character to something we'd recognise today, with bright clothes and greasepaint makeup. In doing so he became famous the world over, and for decades clowns were referred to as "Joey" in reference to him. When he met Lord Byron in 1812, Byron wrote of his "great and unbounded satisfaction in becoming acquainted with a man of such rare and profound talents."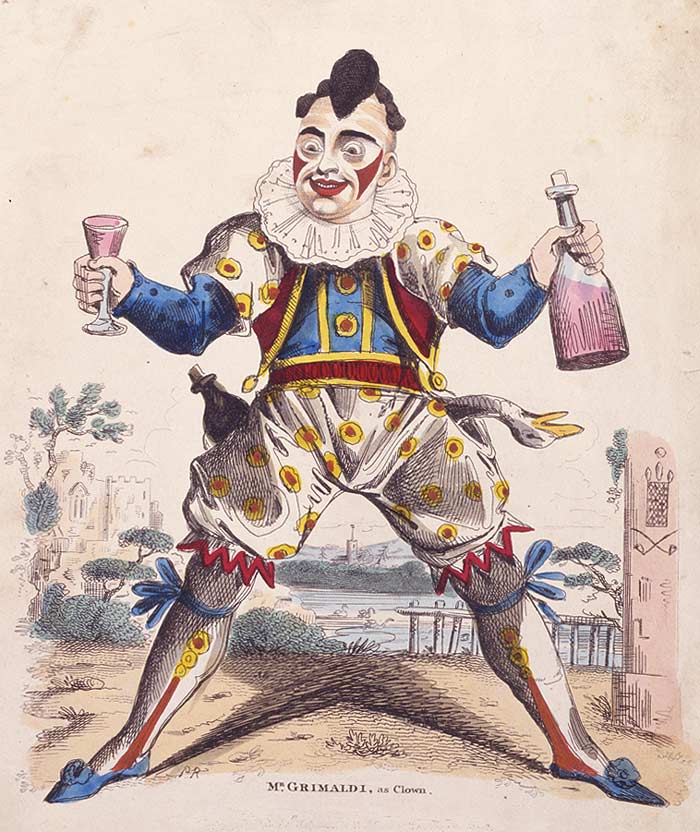 As the first modern clown, it's interesting to note that Grimaldi was also the first example of the sad clown archetype. He struggled financially throughout his life, despite his widespread fame, and as his career declined in the 1810s he neared bankruptcy. He was crippled with pain in later life, the legacy of his intensely physical performances earlier in his career. He became estranged from his son, JS, who had himself descended into embittered alcoholism after failing to escape from Joseph's shadow in his own theatrical career. JS died, aged just 30, in 1832. Grimaldi senior was devastated, and attempted suicide in response, but failed; he eventually died, in depression and penury, at age 58 in 1837.
He's likely the first subject of that old joke, in which a patient goes to visit a doctor, suffering from crippling depression. The doctor suggests visiting the world-famous clown Grimaldi, who is in town on tour, and laughing himself back to health. "But doctor," the patient replies, "I am Grimaldi."