Born in Liverpool to a wealthy Methodist family, William Quilliam trained as a solicitor. In 1887, when recovering from an illness, he travelled to Morocco where he became fascinated with, and ultimately converted to, Islam.
It was a time when Muslims in Britain were rare. He's often described as the first Briton to convert to Islam, but he was preceded by at least thirty years by Henry Stanley, Baron Stanley of Alderley, who converted in the 1850s and became the first Muslim member of the House of the Lords in 1869.
Quilliam's conversion was driven at least in part by his teetotalling Methodism; he was attracted to Islam's complete prohibition on alcohol. (Stanley, too, had run into this aspect of the religion; after his own conversion he closed all of the pubs on his estate at Nether Alderley, much to the annoyance of locals.)
Following a donation from the Crown Prince of Afghanistan, in 1889 Quilliam – who by now had changed his name from William to Abdullah – established the Liverpool Muslim Institute, which contained the first functioning mosque in Britain. He was awarded the honorific title Shaykh al–Islām by Sultan Abdul Hamid II, Caliph of the Ottoman Empire, and was appointed Persian Vice Consul by the Shah of Iran.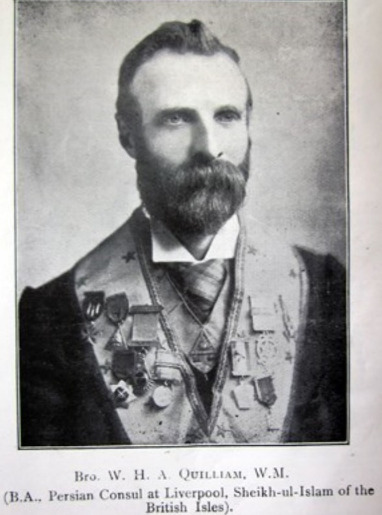 It's thought that he converted 600 other British people to Islam, including Robert Stanley, a Justice of the Peace and the former mayor of Stalybridge, near Manchester.
In 1908 Quilliam left England, partly to preempt being struck off as a solicitor following a scandalous divorce case. In his absence, the Muslim community in Liverpool crumbled, and his son sold the property that housed the mosque. But his legacy of conversion was followed by others in the years that followed, most notably Muhammed Marmaduke Pickthall, who translated the Qur'an into English, and Zainab Cobbold, who was born in Edinburgh in 1867 but grew up in Morocco, converted to Islam in 1915, and became the first woman to undertake the Hajj in 1933.